Speeches
Address by the Deputy Minister of Justice and Constitutional Development, the Hon JH Jeffery, MP, at the Ministerial Visit of the District Development Model of EThekwini, Inkosi Albert Luthuli ICC, 45 Bram Fischer Rd, Durban, 12 November 2020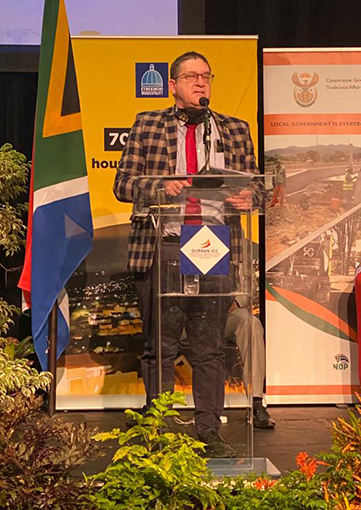 Programme Director, MEC Mshengu
The Minister of Cooperative Governance and Traditional Affairs,
The Deputy Minister of Sport, Arts and Culture,
The Premier of KwaZulu-Natal,
The MEC for Cooperative Governance and Traditional Affairs, MEC Hlomuka,
The Mayor of EThekwini, Mayor Kaunda,
The Deputy Mayor, Cllr Scott,
All councillors present,
Members of stakeholders and civil society,
Ladies and gentlemen, friends and comrades,
Sanibonani nonke and good morning to everyone.
As you know, the District Development Model was initiated by President Cyril Ramaphosa in his Budget Speech in 2019.
It has been adopted by Cabinet, by the Presidential Coordinating Council and various MINMECs.
In the Presidency's 2019 Budget Speech, the President identified the "pattern of operating in silos" as a challenge which leads "to lack of coherence in planning and implementation and has made monitoring and oversight of government's programme difficult".
All of us who work in government know that, often, different departments and institutions operate in silos and that a lack of inter-governmental planning and consultations are an on-going problem.
We could achieve so much more if we work together, if we streamline processes and if we ensure that stakeholder consultations become part of the norm, rather than the exception.
The consequence of working in silos has been the non-optimal delivery of services and a diminished impact on the triple challenges of poverty, inequality and employment.
President Ramaphosa launched the District Development Model Pilot here in EThekwini Municipality in October 2019 and the COGTA DDM Mission for eThekwini is "a different eThekwini with zero hunger and high employment."
This is a vision we all share.
The District Development Model provides us with a practical intergovernmental relations mechanism to enable all three spheres of government to work together, with communities and stakeholders, to plan, budget and implement in unison.
As you know, the Metro has identified 22 key Catalytic Projects with a total investment value of R276 billion that can contribute to the city's strategic objectives including the Automotive Supply Park, Avoca Nodal Development, Cornubia, Dube Trade Port, Point Waterfront, Inyaninga, Bridge City Development, Rivertown Precinct, Oceans uMhlanga, Ntshongweni Development and Sibaya Coastal Precinct.
The Metro has 3.9 million people, accounting for nearly 35% of the total population of KwaZulu-Natal.
Between 2008 and 2018, the population grew by 1.45%.
We have a large population of young people. Close to 30% of the population is under the age of 15 years and 63% of the population is under the age of 35.
Furthermore, 42% of households are headed by women.
One of the most important questions we need to ask is, are these women, young people and children safe?
Are they safe in their homes, or in their churches, in their schools and in their communities?
In KwaZulu-Natal, we know that the murder cases in our province have increased by 10% for the period 2018/19 to 2019/20. 
Sexual offences have increased by 5%, rape by 4,6% and sexual assault by 8% over the same period.
We can put elaborate and detailed plans together to fight poverty, inequality and unemployment, but if women and children are not safe in their own homes, in the street and in their own communities then our efforts will not being about the change we want to see.
Gender-based violence is plaguing our country and traumatising our communities.
One has to agree with the sentiments expressed by President Ramaphosa when he referred to GBV as the second pandemic that our country is facing.
High levels of gender-based violence, sexual violence and domestic violence are tearing our communities apart and what makes it worse is that very often the crimes are perpetrated by a person close to, or known to, the victim – like a family member, a friend, a teacher or a neighbour.
Statistics SA's 2016 Demographic and Health Survey showed that, on average, one in five South African women older than 18 has experienced physical violence by a partner.
In September last year, the Emergency Response Action Plan (ERAP) was announced. The plan sets out emergency actions for government and civil society to speedily address this scourge.
The plan calls for urgent measures to help combat and prevent gender-based violence, to strengthen the criminal justice system and to enhance the legal and policy framework.
It also focuses on ensuring adequate care, support and healing for victims of violence.
The plan requires our Department – the Department of Justice and Constitutional Development – along with the judiciary, the National Prosecuting Authority and Legal Aid SA to take a number of urgent measures such as prioritising backlog cases of sexual offences and domestic violence, designating regional courts into sexual offences courts and establishing additional Thuthuzela Care Centres (TCCs).
One way our Department is ensuring better service delivery is to make sure that our courts function optimally and that all of the stakeholders within the criminal justice system work together.
For this reason, I have initiated a court optimization project where we meet regularly with the Lower Courts' judiciary, with the National Prosecuting Authority, with Legal Aid SA, with the South African Police Services, with Correctional Services and with the Department of Social Development.
Where there are blockages in the court system, we identify these blockages and seek to resolve them immediately.
In addition, I've visited a number of courts here in KZN to address issues and see where and how our courts can run more efficiently and effectively.
It's important to highlight that various services are available to victims of GBV and sexual offences. Support and other services are available at our Thuthuzela Care Centres, our Sexual Offences Courts and our GBV Command Centre.
Victims of gender-based violence can call the Gender-Based Violence Command Centre toll-free on 0800 428 428 for assistance. 
They can also contact the Command Centre by way of a "please call me" at *120*7867# with a request that a social worker contact them or they can sms the word "help" to 31531.
We have also introduced three new Bills into Parliament to strengthen us in the fight again GBV and femicide.
The Domestic Violence Amendment Bill proposes a number of changes.  It, amongst others, widens the definition of domestic abuse to include elder abuse. It sets out the services victims of domestic violence can expect to receive from government and it also allows applications for protection orders to be submitted online.
Alcohol abuse fuels domestic violence. The Amendment Bill obliges a court to order the seizure of any weapon, recognises the role that alcohol plays in violence and enables the court to hold an enquiry whereby a perpetrator can be referred for treatment.
The Criminal Law (Sexual Offences and Related Matters) Amendment Act Amendment Bill proposes improvements to the Sexual Offences Act, while the Criminal and Related Matters Amendment Bill seeks to tighten existing laws on bail and sentencing and aims to reduce secondary victimization of vulnerable persons in court proceedings.
The law can never, on its own, completely prevent or eradicate GBV, but it can create an enabling legal framework to bring perpetrators to book and to ensure justice for victims.
As we are nearing the start of the 16 Days of Activism for No Violence against Women and Children we demonstrate our remembrance of those who have departed due to GBV as well as to Covid-19 by embarking on the five days of mourning, as was announced by the President last night.
We also need to reflect what we can do in our communities to prevent and combat GBV.
We need to ensure that societal attitudes change, that we prevent and combat GBV by fighting patriarchy and toxic masculinity and looking at the ways in which we raise our boys and young men.
If we want to live in a caring society – let us be the change that we want to see in the world.
As we meet here today and again on Monday, let us all remember that we represent many different offices and institutions and that each of us have a part to play in enhancing service delivery to the people of this city, of this province and our country.
Ngiyabonga kakhulu.